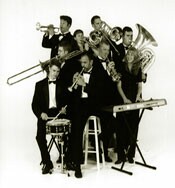 The primary mission of the King's Brass is to spread the Gospel and encourage other believers. However, the mission is actually multi-faceted and can be best expressed through the goals set by the members.

Goals of the King's Brass

GOSPEL Present the good news of life through Jesus Christ at every concert.

WORSHIP Lead people in worship. By the end of each concert, people should have their hearts focused on Jesus Christ.

EXCELLENCE Present musical excellence at all times. We should not be embarrassed to perform for other musicians who attend our concerts. Our music must always communicate to our audience, but never at the expense of quality programming and music.

BRASS Encourage brass playing and players in the church. Show them that brass can be used as a valuable vehicle for leading congregations in worship.

GROWTH Encourage personal development. Each player should be a better musician, person and Christian as a result of being a member of the King's Brass.

ENJOYMENT Enjoy our tours. If we don't, let's stop. Life is too short to not enjoy it all. Let's have fun!