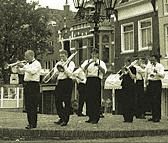 SUMMER 2000/FALL 2002/FALL 2004/FALL 2008
Each year if possible, The King's Brass participates in a missions venture.

In the summer of 2000, the group went to Europe to celebrate the fiftieth anniversary of the Greater Europe Mission, the missionary organization of which Tim Zimmerman's parents were members for twenty-six years.

In the fall 2002, The King's Brass was invited by the Christian shortwave radio station, HCJB, in Quito, Ecuador, to participate in a local celebration that is held every year. Quito Day is the anniversary of the founding of Quito, which is the oldest city in the world. As part of the celebration there, concerts are held which offer a special blend of Christian music with the message of hope and salvation, and Quito music which inspires admiration and celebration for this wonderful ancient city.

In the fall 2004, The King's Brass joined missionary radio ministry, Far East Broadcasting Co. and the Suwon Central Baptist Church, pastored by Dr. Billy Kim, to participate in a week of concerts in Korea. The group played at a variety of schools, churches, outreach auditorium concerts, military bases and music schools over the Thanksgiving holidays.For more information on FEBC, log on to their web site at www.febc.org.
In the fall 2008, the King's Brass journeyed to the Holy Land.
As we travel across the country, our lives have been so moved by the outpouring of love and support for us and for this ministry. This ministry will continue only as long as it honors Christ and is supported by His people. Thank you for providing the platform for us to use to pass on the love of Christ.

_____________________________________________

The King's Brass also supports the wonderful work of SAT-7. Please click this link to learn more about their ministry.

SAT-7